LOS ANGELES – I first visited LA when I was still a
college student in Japan. My friends and I were here for about a week
of fun and I fell in love. I decided to move to California right after
graduating from school. Here I am, it's been almost a decade since I
moved to the USA.
The most interesting part about living in foreign county to me is that
I can get to see my home country from a different point of view.
Everything that used to seem "normal" is more special to me now than
it was before. The fashion scene in Shibuya or Harajuku has amazed me
a lot more now than when I lived in Japan. Now I think it is the most
fun street style to look at.
Why are you going to California, and not New York City? I still
remember my professor asking me when I was preparing to go abroad.
Because I attended art school and always fascinated by fashion, I
completely understand what he meant. However, my heart chose LA and I
still appreciate the atmosphere here – gorgeous weather, beautiful
sunset, and the California fashion scene.
West coast (especially in LA) fashion scene has always been
interesting. I always love the free spirits around here. People wear
high end fashion with vintage items and create such a unique beachy
look. "Free" and "easy" are the best words to describe the look around
here. I don't think my style is a California or a Tokyo style… it's
a mix of many things, like LA itself. Right now though, I'm obsessed
with the minimalistic looks.
There are so many different races and cultures here. It's easy to get
authentic Japanese food and ingredients, sometimes it makes me forget
I live in California. I have now lived here more than ten years and
during that time I met the greatest guy in the world and we recently
got married. My husband happens to be Latino, so I am surrounded by
Hispanic culture as well, which I love. Life goes on and my spirit is
always in me, whether I am in Japan, California or anywhere.
Akiko – Style Imported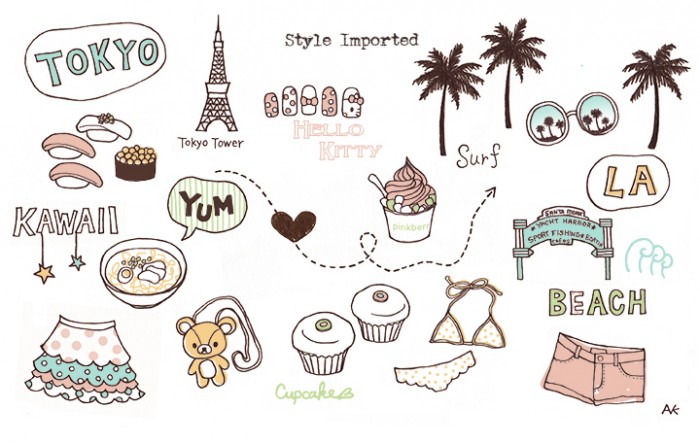 illustration by Akiko