Finding the perfect pair of jeans is not just about following the trends and finding a pair based on what's 'in' today. There are several factors you need to consider if you really want to find the jeans that are right for you. First of all, you need to know what different styles are out there. What's more, your body type can play a significant role as well. So what should you know about finding the perfect pair of jeans for your body type? Let's find out.
The different jean styles
There are a number of jean styles from which you can choose. First is the 'jeggings,' which, as its name implies, is similar in look and feel to the classic leggings, and has a snug fit that hugs your body. Another popular style is the 'skinny' jeans, known for its comfort and slim fit that hugs the ankles. The 'boyfriend' style is, as you can imagine, just like your boyfriend's pair of jeans – it's easy and relaxed and not constrained. The 'straight' cut is another popular style which simply goes straight down to the ankles. The 'bootcut' style was popular in the early part of the millennium, and it features a slight flare starting from the knee. There's also a 'slim' style, which is similar to the skinny style although it's less body-hugging.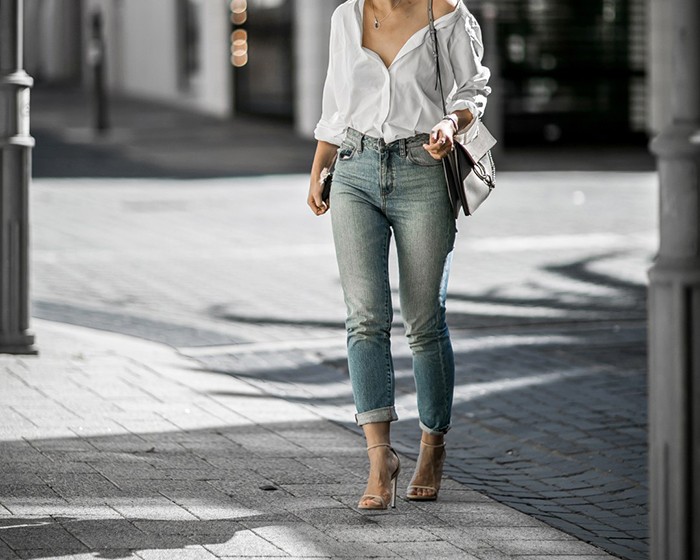 You also have a choice on where the jeans will rest or settle around your waist. The high rise tends to sit above your waistline, whilst the mid rise has a more natural look, sitting above your hip. The low rise is a bit more flattering, as it sits right on your hip on your waistline.
Finding the perfect pair of jeans according to your body type
Finding the right pair of jeans is somewhat of a 'trial and error' process. You have to be willing to try out different styles to see what suits you the most. But in general, what you should know is that straight leg and skinny jean styles are often the most flattering for most.
When looking for the ideal pair of jeans, stretchy styles are quite flattering to most body types, although you do have to be mindful of finding one that's comfy enough for your fancy. If you want your jeans to be more comfortable, pay particular attention to the rise. High rise jeans can be a bit more restricting, for instance.
The point is to try out the different styles out there, as outlined by http://www.simplybe.co.uk   – even styles that you wouldn't normally think about. Be broad-minded. Who knows, you may be able to find the perfect pair just by trying out various styles, washes, and fits. And, when trying out different pairs, bring a friend. Their input and advice could prove invaluable, and they could provide you with an unbiased opinion. Happy jean hunting!
photo by beige renegade